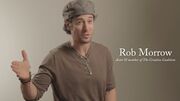 Robert Alan Morrow first appeared onscreen in the mid-80s, but made his name as Dr. Joel Fleischman on Northern Exposure. He has been seen in over fifty shows, films and TV movies, including a memorable turn in Quiz Show (1994) and a one-season run on The Whole Truth in the wake of Numb3rs.
Ad blocker interference detected!
Wikia is a free-to-use site that makes money from advertising. We have a modified experience for viewers using ad blockers

Wikia is not accessible if you've made further modifications. Remove the custom ad blocker rule(s) and the page will load as expected.